The 8th Annual TeamCindy 5K Run for Research is once again going virtual! Please sign up as a participant and get some great branded swag and a chance to win sponsored prizes. Prize categories include: most funds raised, team captain with the most members, and a random lottery-based drawing just for participating! Individual winners only.
Run/walk on or before September 18th and share your pictures on social media using #2021TeamCindy.
We will also be hosting a live awards ceremony immediately followed by a virtual dance party featuring a live DJ on September 18, starting at 12:30pm ET.
This event supports the Brain Aneurysm Foundation with the funds to continue to create education and awareness materials, run support groups nationwide, and enables the brightest minds in the neurological field to continue their vital research. The generosity of participants, donors, sponsors, and volunteers of this event, contribute to our mission to help save lives and improve outcomes for survivors.
Virtual Participant Fee: Register for $35 by 9/18/21 to receive some TeamCindy swag.
Virtual #1in50 Participation Fee: Please consider rounding up to $50 by 9/18/21 to represent the #1in50 people living with a brain aneurysm.

If you are interested in event sponsorship opportunities, please click here

---
cl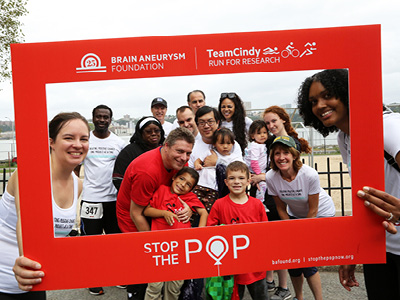 Join us virtually in 2021!

To make a donation by check to the event, please click here to download the form

For more information contact TeamCindy: Info@TeamCindy.org