View this message on our website.


FOLLOW US: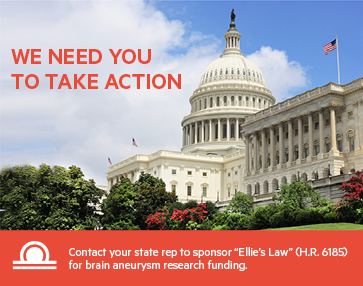 Historic brain aneurysm legislation is introduced on Capitol Hill and we need YOU.
"Ellie's Law" (H.R. 6185), named after Ellie Helton, a vibrant 14-year-old girl who lost her life to a brain aneurysm, was formally introduced in the U.S. House of Representatives by Representatives Renee Ellmers (R-NC) and Yvette Clarke (D-NY). If passed, this legislation would authorize $25 million in federal funding for brain aneurysm research.
Increased funding for brain aneurysm research is the key to finding effective treatments, interventions, and ways to prevent aneurysms from developing.
Ellie's Law provides the National Institute of Neurological Disorders and Stroke (NINDS) with $25 million ($5 million per year for 5 years) to conduct or support further comprehensive research on unruptured intracranial aneurysms, studying a broader patient population diversified by age, sex, and race.
How can you help?
Be a brain aneurysm advocate today - exercise your rights as a citizen and advocate for an issue that matters to you and has affected you.
To get the bill signed into law we need more cosponsors. Please call your representative's DC office, ask to speak with their healthcare staffer, and urge them to sign on as a cosponsor to Ellie's Law (H.R. 6185)
To be directed to your representative's office, you can call the House switchboard operator: (202) 225-3121
If you need to look up your representative's name, you can find it by searching with your zip code here: http://www.house.gov/representatives/find/
Make your voice heard!
Here are some key points we recommend to help the staffer understand the importance:
Tell them why this is important to you as a constituent.

An estimated 6 million people in the United States have an unruptured brain aneurysm, or 1 in 50 people.

The combined lost wages of survivors of brain aneurysm ruptures and their caretakers are approximately $138 million per year.

Despite the widespread prevalence of this condition and the high societal cost it imposes on the Nation, the Federal Government only spends approximately $0.83 per year on brain aneurysm research for each person afflicted with a brain aneurysm.
Every day important causes and issues, like brain aneurysm research, are being championed by people who care – people like you. We ask you to make a difference and take action today.
Sincerely,
Christine Buckley
Executive Director

---
You are receiving this message because you have agreed to receive emails from the Brain Aneurysm Foundation.


269 Hanover Street, Building 3, Hanover, MA 02339 | Tel: 781
.
826-5556
Brain Aneurysm Foundation © 2019 All rights reserved.